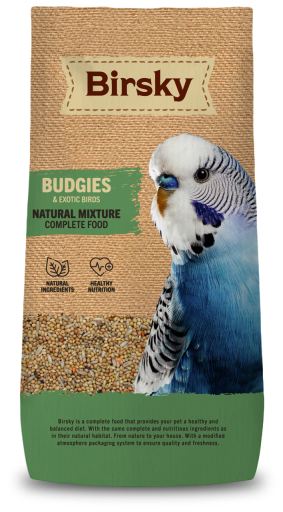 Description
Mixture Budgies & Exotic Birds Birsky
Birsky's Parakeet and Exotic Bird Mix is composed of a mixture of seeds that will provide the key nutrients for a complete and balanced diet. Birsky Parakeet and Exotic Birsky contains yellow and red millet that will provide the necessary energy. It also incorporates oats that will favor the activation of their metabolism and will help to improve their digestion. The canaryseed in this mixture will provide the proteins he needs and the bread seeds will improve his digestion.
The Negrillo is also present in this mixture, because it is an energetic seed rich in fatty acids that will take care of the plumage of our parakeet helping it to be shinier and silky.
The Parakeet is one of the most popular and well-known birds, thanks in part to its sociable nature and its ease of adapting to a domestic environment. A friendly, talkative little bird that likes to be in company. Seed mixes, such as Birsky's Mixture, should be the basis of their daily diet. These will provide them with all the energy and nutrients they need to stay healthy and in good condition.
BENEFITS:
- Natural ingredients
- No added sugars
- Free of GMO (genetically modified organisms)
- Rich in protein
- Low in fat
- Contains fatty acids that will take care of our parakeet's plumage to make it look shinier and silkier.
- High quality
INSTRUCTIONS FOR USE: Serve in the feeder as is, and always keep clean and fresh water available for the birds.
Ingredients
Mixture Budgies & Exotic Birds Birsky
INGREDIENTS: Yellow millet, Birdseed, Red millet, Paniset, Peeled oats, Bakery and pasta product, Negrillo, Nabina, Vegetable oil, Banana flavor.
NUTRITIONAL CHARACTERISTICS (per 100 g of product).
ANALYTICAL COMPONENTS: Protein 19.89%, Fat 5.22%, Moisture 12.89%, Calcium 0.03%, Phosphorus 0.27%, Carbohydrates 57.6%, Ash 2.71%, Energy 304.6 kcal, Magnesium 0.11%, Potassium 0.27%.
MICROBIOLOGICAL CHARACTERISTICS: Salmonella (/ 25 g) Absence, Escherichia Coli (cfu/g) < 100.
CHEMICAL CHARACTERISTICS: Lead (mg/kg) < 10, Cadmium (mg/kg) < 1. COLORINGS: E124, E122, E102, E131, E110.
Features
Mixture Budgies & Exotic Birds Birsky
With millet, oats, canaryseed and bread seeds

Fatty acids for coat care

Rich in protein and low in fat

Sugar and GMO free
Reference

8436579243579

Weight

800 GR, 3 Kg, 6 KG, 1,6 KG

Bird Type

Exotic Birds, Parakeets

Brand

Birsky, Birsky, Birsky, Birsky

Format
Customer Reviews
Mixture Budgies & Exotic Birds Birsky