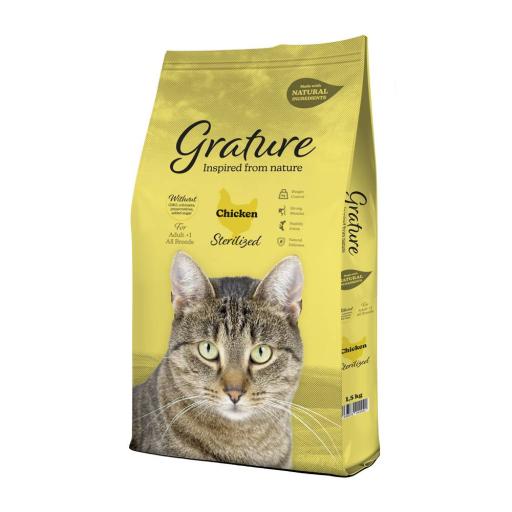 Description
Sterilized Cat Chicken Grature
Grature Chicken is a food made with natural ingredients for adult cats.
Its recipe has been prepared with a selection of poultry and beef meats designed exclusively for sterilised cats due to its low fat content, 12%, which, together with fibre, will help them to maintain and lose weight if desired.
It also contains Vitamin A which strengthens retinal cells, wholegrain cereals which provide fibre and carbohydrates, chondroprotectors for good joint health and green lipped mussel extract which has an anti-inflammatory effect. Grature has not forgotten an essential element for cats, Taurine, which is why it contains 1600mg/kg.
Its triangular-shaped kibble has been designed to be highly palatable for your cat, thanks to its meaty smell and texture.
BENEFITS
- High palatability
- Good levels of Taurine
- Low fat content
- Natural ingredients

CHARACTERISTICS
- Meat as first ingredient
- Anti-inflammatory effect
- Good digestion
- Adapted croquettes
Remember! The change in your cat's diet should be made gradually over 7 days. Each day with its daily ration divided into 2 or 3 feedings, always at the same time. The cat should always be provided with clean, fresh water.
Ingredients
Sterilized Cat Chicken Grature
COMPOSITION:

Meat (poultry min. 10%; beef minimum 15%), malted barley, whole maize, wheat derivatives, pulses (carob fibre), poultry fat, poultry liver hydrolysate, lignocellulose, brewer's yeast Saccharomyces cerevisae, minerals, taurine, mineral chelates, choline chloride, chondroprotective complex (glucosamine hydrochlorate, chondroitin sulphate, extract of green lipped mussel (Perna canaliculus), yeast walls as a source of MOS and beta-glucans, probiotics (E. faecium NCIMB 10415 15x106 cfu)



ADDITIVES per kg:

Nutritional additives: Vitamin A 28000 IU, Vitamin D3 1750 IU, Vitamin E 195 mg; Taurine 1400 mg; Iron 75 mg (iron sulphate II
monohydrate); Iodine 2 mg (potassium iodide); Copper 12 mg (copper (II) sulphate pentahydrate); Manganese 35 mg (manganese oxide);
Zinc 75 mg (zinc oxide); Selenium 0,2 mg (sodium selenite). Technological additives: antioxidants and acidifying agents.
Features
Sterilized Cat Chicken Grature
Reference

8436579244040

Weight

12 KG, 4,5 KG, 13,5 KG, 1,5 Kg

Age

Adult, Senior

Flavor

Chicken

Brand

Grature, Grature, Grature, Grature

Special Cares
Customer Reviews
Sterilized Cat Chicken Grature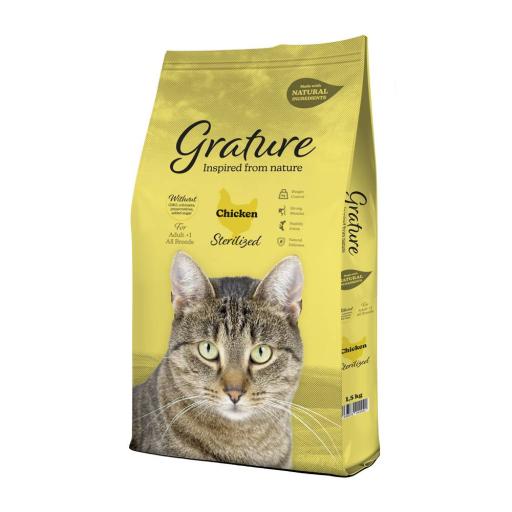 Os gulosos lá de casa adoraram!