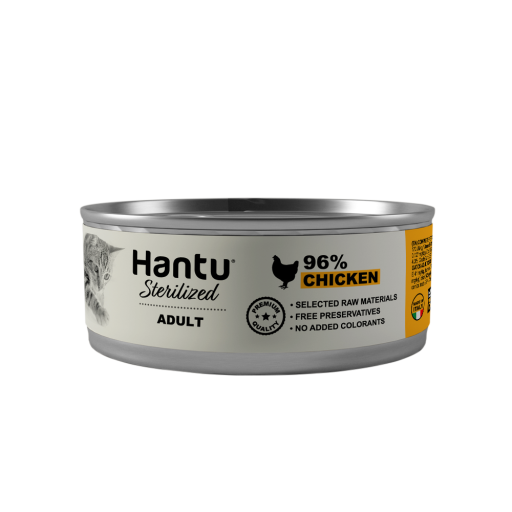 Description
Wet food for chicken sterilized cats Hantu
Hantu's natural wet food is designed for sterilised adult cats and is notable for containing 96% chicken. A food classified as super premium, with an attractive texture for the feline and a highly palatable taste. A recipe rich in meat that will give your cat all the energy it needs.
The perfect complement to the Hantu Cat Salmon and Chicken varieties of Hantu Cat Food.
CHARACTERISTICS:
- Complete and balanced food
- High level of animal protein
- Grain Free
- GMO free
- Flavour and texture that will stimulate their appetite.
BENEFITS:
- Perfect complement to a complete and balanced diet.
- Ensures good growth and development of your pet
- Helps promote good health
- Suitable for neutered cats of all breeds
Ingredients
Wet food for chicken sterilized cats Hantu
Sterilized chicken: meat and derivatives (96% chicken), substances Minerals, sugars. Product analysis: Humidity 82.5%, gross protein 7.2%, Oil and gross fat 4.3%, gross ash 2.6%, gross fiber 0.2%. Additives: Nutritional additives: Vitamin A 4000 IU / KG, Vitamin D3: Colecalciferol 170 UI / KG, Vitamin E 41 mg / kg, Taurine 1000 mg / kg, iron 1.58 mg / KG (iron carbonate [II] 3.29 mg / kg), copper 0.24 mg / kg (sulfate Copper [II] pentahydrate 1.0mg / kg), manganese 5.25mg / kg (oxide of Manganese [II] 7.0 mg / kg), iodium 0.09 mg / kg (potassium iodide 0.127 mg / kg), zinc 6.42 mg / kg (zinc oxide 8.1 mg / kg), selenium 0.0054 mg / kg (sodium selente 0.012 mg / kg). Technological additives: rubber Cassia 2700 mg / kg
Features
Wet food for chicken sterilized cats Hantu
96 % chicken

For sterilised cats

Grain-free

Natural, no colourings or preservatives
Reference

8436579244293

Weight

85 gr, 1,02 Kg, 1,53 kg

Age

Adult

Flavor

Chicken

Format

Can

Brand

Hantu

Formato

, ,

Nutritional Conditions

Natural
Customer Reviews
Wet food for chicken sterilized cats Hantu