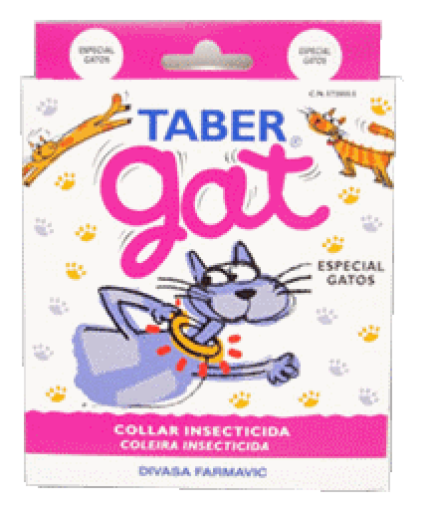 Description
Cat Anti-Parasite Collar Tabernil
Insecticide collar for cats, effective against fleas thanks to the release of an active ingredient, diazinon, which spreads through your pet's coat and kills the parasites. Once opened, the collar offers a 4-month protection. Suitable for cats from 6 months of age.
Tabergat is an anti-parasite collar for cats that eliminates fleas from your pet and prevents their appearance.
Highly effective against the most common flea species thanks to its active ingredient that is slowly released.
Advantages:
Diazinon is an external antiparasitic of the organophosphate group that acts by inhibiting the parasite's cholinesterase.
It is active against fleas: Ctenocephalides canis, Ctenocephalides felis and Pulex irritans.
The active ingredient is slowly released from the surface of the collar, deposited on the coat of the animal and contacting the parasite.
Contraindications:
Not suitable for cats under 6 months of age.
Not suitable for lactating females
Instructions for use:
Place the collar around the animal's neck so that two fingers can be inserted between the collar and the neck, cutting the excess piece.
It should not be used as a restraining collar. The bag containing the collar should only be opened when the collar is to be used.
To ensure continuous anti-parasitic action, the collar should be worn permanently. Once out of the original packaging, the collar is active for 4 months.
Composition: Diazinon 2,325 g,Excipient q.s.
Features
Cat Anti-Parasite Collar Tabernil
Reference

8430274068284

Brand

Tabernil

Size

30 cm, 30 cm

Insects and parasites

Flea, Ticks, Louse

Type of Components

Chemical

Prescrição Veterinária

Farma OTC
Customer Reviews
Cat Anti-Parasite Collar Tabernil