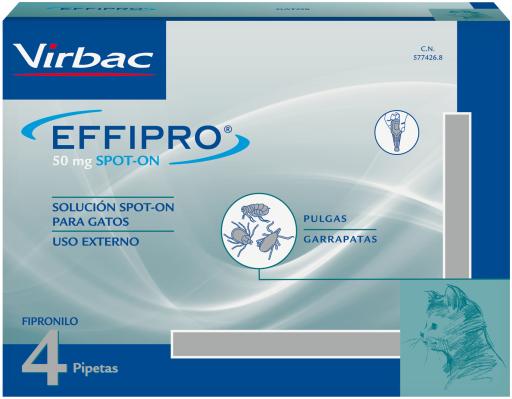 Description
Effipro Spot on Antiparasitic for Cats Virbac
Effipro spot-on pipettes are very effective against flea and tick infestation, performing a double effect of treatment and prevention on the cat.
The active ingredient of fipronil, inseticide and acaricide, acts on the parasite's central nervous system causing a disorder in it that ends with death. This antiparasitic effect is produced 48 hours after being applied in the case of fleas and 24 hours after being applied in the case of fleas.
Effipro spot-on are very easy to apply on cats and perform a highly effective antiparasitic effect for 8 and 4 weeks on fleas and garraptas respectively.
Advantages:
- Efficacy: exclusive formula for prolonged efficacy.
- Flexibility: complete range for all weights. Also available in spray format.
- Cost-effectiveness: excellent value for money.
- Convenience: simple and intuitive application. The pipette has an anti-drip system.
Contraindications:
In the absence of available data, the product should not be used in kittens under 2 months of age and weighing less than 1kg.
Do not administer to sick (systemic diseases, fever) or convalescent animals.
Do not administer to rabbits, as adverse drug reactions and even death may occur.
Do not use in case of hypersensitivity to the active substance or to any of its excipients.
Administration:
Apply 1 pipette per month of the corresponding presentation according to weight of the animal.
It can be administered in adult and senior cats.
Do not use in kittens less than 2 months old and/or weighing less than 1 kg.
Instructions for use:
Remove the blisters from the cardboard box and separate a blister.
Remove the pipette or spot on-cutting with scissors or folding the dotted line backwards.
Separate the coat along the dorsal line of the dog or cat until the skin is visible, place the tip of the pipette on the skin and start spreading the product from the shoulder blade area to the middle of the back to prevent the animal from turning and licking. It is advisable not to put all the product in the same spot.
The product will seep into the skin of our animal and will make a protective layer.
For optimal control of flea problems in a multi-pet household, all dogs and cats should be treated with the appropriate insecticide, in addition to controlling environmental infestation with insecticides such as Effipro Spray.
Composition : Fipronil 100 mg/ml
Features
Effipro Spot on Antiparasitic for Cats Virbac
Reference

3597133088311

Brand

Virbac

Age

Adult, Senior

Insects and parasites

Flea, Ticks

Pet Weight

5 - 8 Kg, 0 - 4 Kg.

Type of Components

Chemical

Units

4 Drops, 60 Drops, 24 Drops

Power

16 W

Manufacturer

Virbac,ES 819,DECHRA VETERINARY PRODUCTS, S.L.U Tuset, 20 6ª Planta 8006, BARCELONA ,

Produits Français

Prescrição Veterinária

Farma OTC
Documents
Effipro Spot on Información Adicional
Customer Reviews
Effipro Spot on Antiparasitic for Cats Virbac