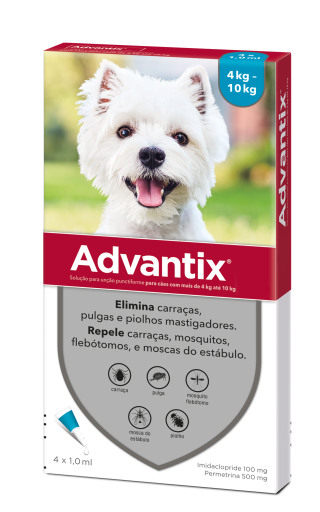 customer_also_bought_ani
Traveness

Traveness
Description
Advantix Small Breed 4-10 Kg Advantix
Advantix® is an external parasite effective for dogs that eliminates fleas, ticks and chewing lice. In addition, it is a special repellent against ticks, sand flies (mosquitoes that transmit leishmaniasis), mosquitoes, and stable flies.
Advantix® is very easy to apply, waterproof and safe for the whole family!
Advantix® is designed to pamper and care for your dog as you like. So every Advantix® adapts to the real needs of your dog based on its weight.
Advantix® comes in pipettes so your dog can wear it comfortably.
Note that it applies to puppies from 1.5 kilos and 7 weeks.
Choose the right one!
Parasites:
Sandflies or mosquitoes leishmaniasis, ticks and fleas are not only annoying, but can transmit diseases such as, in the case of the sandfly, leishmaniasis. These diseases can spread very quickly and can become very serious. So it is better to prevent.
Safety and efficacy:
After applying the content of the pipette on the skin of your dog, Advantix® the active substance is rapidly distributed throughout the surface of the body, ensuring maximum protection and keeping your dog healthy and happy. You can apply from 1.5 kilos and 7 weeks old, also during the period of pregnancy and lactation without becoming a risk to either the puppy or the mother.
Formats:
- Advantix for dogs of up to 4 kilos
- Advantix for dogs from 4 to 10 kilos
- Advantix for dogs from 10 to 25 kilos
- Advantix for dogs over 25 kilos
Features
Advantix Small Breed 4-10 Kg Advantix
Reference

4007221016847

Quantity

1 ml

Brand

Advantix

Insects and parasites

Flea, Louse, Leishmaniasis Mosquitos, Flies,

Dog Size

Small

Type of Components

Chemical

Units

4 Drops, 24 Drops, 6 Drops

Format

Pet Weight
Customer Reviews
Advantix Small Breed 4-10 Kg Advantix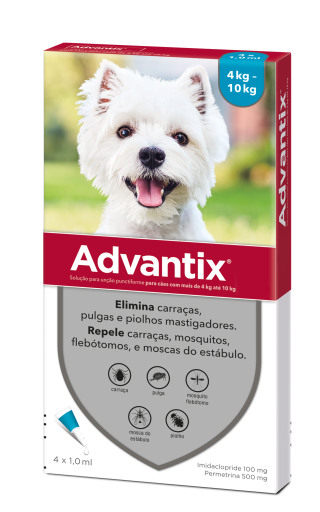 Aliada à coleira, é das melhores coisas para manter os patudos livres de pulgas, carraças e mosquitos.