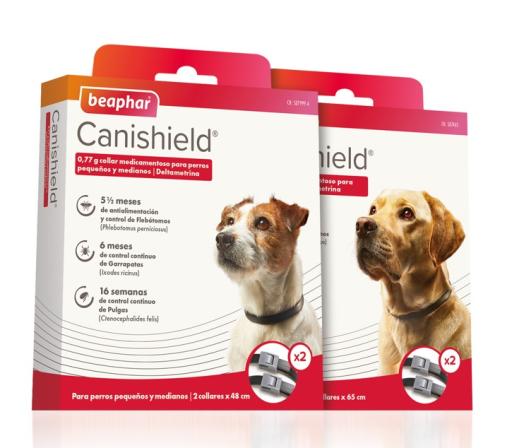 customer_also_bought_ani
Traveness

Traveness
Description
Canishield Anti-Parasite Collar For Large Dogs Beaphar
Canishield Anti-Parasite Collar for large breed dogs. Anti-parasite collar that protects up to 6 months against ticks, fleas, sand flies, etc., for large breed dogs and protects against the leishmaniasis mosquito.

The Beaphar Canishield collar contains the insecticide deltamethrin, which is slowly released from the polyethylene matrix of the collar. Canishield kills fleas for up to sixteen weeks, ticks for up to six months and sandflies for up to five and a half months.

For best results, use it early in the season before fleas are seen, and at least one week before your dog is exposed to ticks. Ideal for dogs traveling abroad at risk of leishmaniasis, which is transmitted by sand flies.

Beaphar Canishield® collar provides permanent protection against fleas (Ctenocephalides felis) for a period of 16 weeks.

Protects against:

Against sandflies 5 1⁄2 months
Against ticks 6 months
Against fleas 16 weeks

Two formats :

1 box with 1 Collar x of 65cm
1 box with 2 collars x of 65 cm

Benefits:

Long term protection against sandflies, ticks and fleas.
Black 65cm adjustable collar for easy application.
From 7 weeks of age
Odorless and water resistant: occasional contact with water does not reduce the effectiveness of the collar
Gradual release of active ingredient
Non-prescription medication
Deltamethrin works non-systemically: it is not absorbed into the dog's bloodstream

Instructions for use:

Remove the collar from the protective bag just before use.
Adjust the collar to the animal's neck: neither too loose nor too tight. Two fingers should fit between the collar and the dog's neck.
Cut off the excess of more than 5 cm.
Check periodically and adjust easily by pressing the top of the buckle and sliding the collar into the correct position.
Canishield® by Beaphar has a safety system: it detaches in case of high pressure, for example if the dog gets caught somewhere.

Contraindications:

Do not use in puppies under 7 weeks of age.
Do not use on cats.

Advice:

The collar reaches its maximum effect after 1 week, therefore, it is recommended to put the collar 1 week before the animals can be exposed to the infestation.
The product should be used during pregnancy and lactation only under veterinary supervision.
Do not use with other ectoparasiticides containing organophosphates.
Deltamethrin is toxic to aquatic organisms. Dogs wearing the collar are not allowed to enter waterways, so the Beaphar Canishield® closure system allows you to apply and remove the collar easily.
For optimal control of flea infestations in multi-pet households, all dogs should be treated at the same time. Fleas often infest the pet's basket, bedding and regular resting areas such as carpets and soft furnishings. They should be treated with an appropriate insecticide in case of massive infestation and when starting control measures and should be vacuumed regularly (see Beaphar's range for the Environment).

Composition per collar :(26 g), contains 1.04 g Deltamethrin.
Features
Canishield Anti-Parasite Collar For Large Dogs Beaphar
Reference

8711231172351

Weight

200 GR, 150 GR, 100 gr

Brand

Beaphar

Size

65 cm

Units

1, 2

Insects and parasites

Flea, Leishmaniasis Mosquitos,

Dog Size

Maxi

Type of Components

Chemical

Format

1x65 cm, 2x65 cm

Collar Size
Customer Reviews
Canishield Anti-Parasite Collar For Large Dogs Beaphar