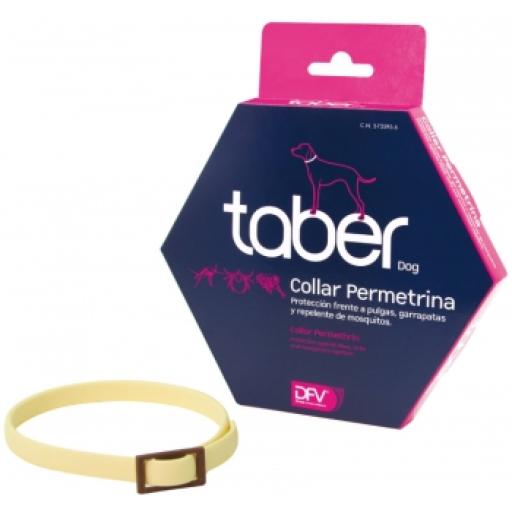 customer_also_bought_ani
Traveness

Traveness
Description
Taberdog Antiparasitic Collar with Permethrin DFV
Antiparasitic collar with permethrin to protect dogs against ticks, insects in general and fleas highly effective.

Permethrin is a synthetic pyrethroid with acaricidal and insecticidal functions of second generation that acts on the sodium channels of the axons of insects (fleas, ticks and insects) causing excitation, convulsion, paralysis and death of insects.

It is useful for:

External parasitosis in dogs produced by fleas: Ctenocephalides canis, Ctenocephalides felis and Pulex irritans.
Ticks: Dermacentor spp., Rhipicephalus spp. and Otobius megnini.
Lice: Linognathus spp.
Repellent of flies and mosquitoes.

Instructions for use:

Place the collar loosely, so that two fingers can be inserted between the collar and the neck, cutting the excess piece. It should not be used as a restraining collar.
The bag containing the collar should be opened only at the time of use.
To ensure continuous antiparasitic action, the collar should be worn permanently; changing every 4 months.

Presentation:

40 cm for small dogs.
60 cm for medium dogs.
75 cm for medium and large dogs.

Composition: permethrin 1,5 g, excipient q.s.
Features
Taberdog Antiparasitic Collar with Permethrin DFV
Reference

8430274141451

Brand

DFV

Size

40 cm, 60 cm, 75 cm, 60 cm

Insects and parasites

Flea, Ticks, ,

Dog Size

Medium, Maxi

Type of Components

Chemical

Product Range

Taberdog

Prescrição Veterinária

Farma OTC
Customer Reviews
Taberdog Antiparasitic Collar with Permethrin DFV