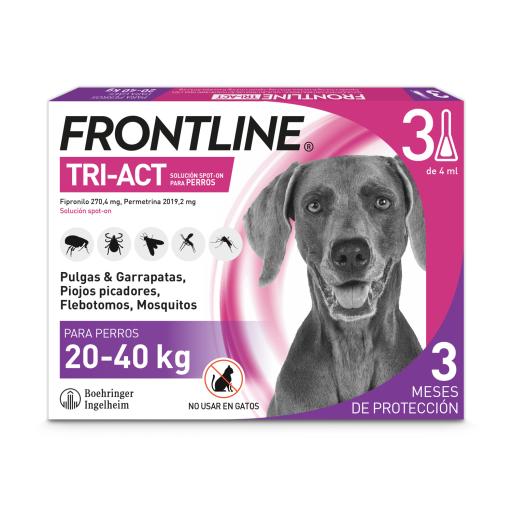 customer_also_bought_ani
Traveness

Traveness
Description
Tri-Act Large Breed 20-40 Kg Frontline
Frontline Tri-act and its spot-on solution guarantees total protection against fleas, ticks, mosquitoes and stable flies. These pipettes are indicated for dogs between 20 and 40Kg. Its action is topical and covers the animal completely.
Benefits
- Frontline Tri-act offers your dog an excellent protection against fleas and ticks and has a long lasting repellent action against phlebotomes, mosquitoes, stable flies and ticks.
- Prevents infestation and completely eliminates fleas.
- Repels and eliminates ticks.
- Repels all flying insects.
Directions
- Use only on dogs.
- Be sure of the size of the dog in order to choose the right pipette.
- You can touch the dog as long as the area where the pipette has been applied has dried.
- Do not bathe it until 48h have passed since its application.
Instructions for use:
Remove the blister packs from the cardboard box and separate a blister.
Remove the pipette or spot on-cutting with scissors or folding the dotted line backwards.
Separate the fur along the dorsal line of the dog or cat until the skin is visible.
Place the tip of the pipette on the skin and start spreading the product well from the shoulder blade area to the middle of the back to prevent the animal from turning and licking.
It is advisable not to put all the product in the same spot.
The product will seep into the skin of our animal and will make a protective layer.
Precautions
- Do not use on cats or rabbits.
- Do not bathe the dog 48h before applying the pipette.
- Use in puppies from 8 weeks old.

TECHNICAL DATA SHEET

Frontline® Tri-Act spot-on solution for dogs.

Composition: Each ml contains: Fipronil 67.6 mg; Permethrin 504.8 mg.

Target species: dogs.

Indications: For the treatment and prevention of flea and/or tick infestations when a repellent (antifeeding) activity against phlebotomes, biting lice and/or mosquitoes is necessary.

Contraindications: Do not use in sick or convalescent animals. Do not use in cats or rabbits, as adverse reactions may occur, even resulting in death. Do not use in case of hypersensitivity to the active substances or to any excipient.

Dosage and administration: The minimum recommended dose is 6.76 mg fipronil / kg body weight, and 50.48 mg permethrin / kg body weight, equivalent to 0.1 ml spot-on solution per kg body weight. Select the appropriate pipette size for the weight of the dog. The drug should be applied in two points out of reach of the animal so that the animal cannot lick them.

Precautions: Not recommended for dogs under 8 weeks of age and under 2 kg body weight. Avoid contact with the dog's eyes. It is important to ensure that it is applied in an area where the animal cannot lick itself and that other animals do not lick the application area after treatment.

Adverse reactions: Rarely, transient skin reactions have been observed in the area of application (skin discoloration, local hair loss, itching, redness) as well as general itching or hair loss. Excessive salivation, reversible nervous signs (increased sensitivity to stimulation, hyperactivity, muscle tremor, depression, other nervous signs) or vomiting have also been observed.

- Fipronil is the main active ingredient of the FRONTLINE product range. It is an insecticide/acaricide substance characterized by rapidity of action, an excellent safety profile and long-lasting effects.
- Permethrin is a substance belonging to the class of type 1 pyrethroids. It is an insecticide and acaricide that exerts a repellent action against sandflies, mosquitoes and ticks.
Features
Tri-Act Large Breed 20-40 Kg Frontline
Reference

3661103045755

Brand

Frontline

Pet Weight

20 - 40 Kg.

Product Range

Frontline Tri-Act

Insects and parasites

Flea, Leishmaniasis Mosquitos, Flies, ,

Type of Components

Chemical

Units

3 Drops, 1 Drops, 6 Drops

Dog Size
Customer Reviews
Tri-Act Large Breed 20-40 Kg Frontline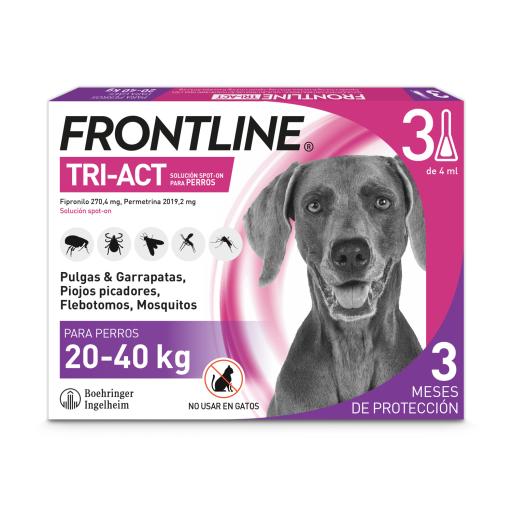 Satisfeito recomendo para todos os amigos de quatro patas
Produto eficaz mas de curta durao.