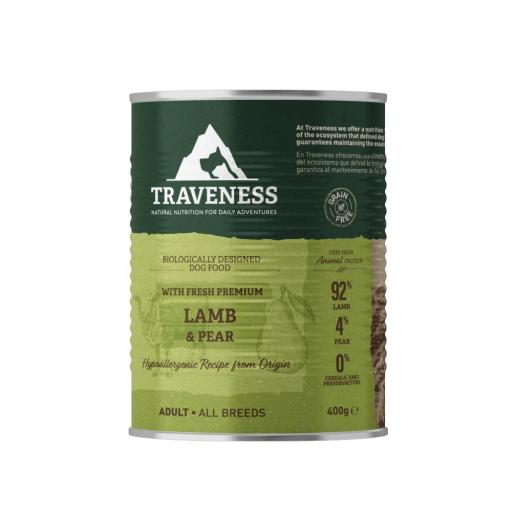 customer_also_bought_ani
Traveness

Traveness
Description
Lamb with Pears wet dog food Traveness
Traveness has developed natural wet dog food recipes such as Lamb with Pears, which your dog will enjoy every bite. Made with natural ingredients and a single source of animal protein, these tins will be the perfect complement to your dog's balanced diet.

BENEFITS:
- With 92% lamb
- Pear (4%) has a high percentage of water and is low in calories.
- Rich in Vitamin A (protects dogs against vision loss).
- Maintains stable cholesterol levels
CHARACTERISTICS:
- Grain-free
- Excellent source of animal protein
- High water content which will help to improve hydration
- Suitable for dogs of all sizes and breeds
- Balanced and nutritious recipe

Mixed feeding:
Mixing wet food with Traveness feed will improve our pet's hydration, thanks to its high moisture (water) content. This will improve the functioning of the kidneys and urinary tract, preventing the formation of stones and calculi.
A mixed diet will also reduce carbohydrate intake, as wet food is less calorific and will increase its palatability, making their meals much tastier recipes. Offer your pet a combination of feed and tin and let him enjoy the variety of textures, smells and flavours!
Ingredients
Lamb with Pears wet dog food Traveness
Ingredients: meat and meat by-products (lamb, 92%), fruit (pear, 4%), minerals, sugars. PRODUCT ANALYSIS: Moisture 80.8%, Crude protein 8.4%, Crude oil and fats 4.5%, Crude ash 2.3%, Crude fibre 0.4%. ADDITIVES: nutritional additives: vitamin A 4000 IU/kg, vitamin D3: cholecalciferol 170 IU/kg, vitamin E 41 mg/kg, iron 1.58mg/kg (iron [II] carbonate 3.29 mg/kg), copper 0.24 mg/kg (copper [II] sulphate pentahydrate 1.0 mg/kg), manganese 5, 25 mg/kg (manganese oxide [II] 7,0 mg/kg), iodine 0,09 mg/kg (potassium iodide 0,127 mg/kg), zinc 6,42 mg/kg (zinc oxide 8,1 mg/kg), selenium 0,0054 mg/kg (sodium selenite 0,012 mg/kg).
Features
Lamb with Pears wet dog food Traveness
92% Lamb

Grain Free

Natural KM 0 food

For adult dogs of all breeds
Reference

8436579244187

Weight

400 GR, 2,4 KG

Physical Activity

Strong, Soft, Average

Nutritional Conditions

Natural

Age

Adult, Senior

Flavor

Lamb, Fruits

Dog Size

Small, Medium, Maxi, Giant

Special Cares

Hair and Skin, Digestive

Brand

Traveness, Traveness, Traveness

Format

6x400 gr, 400 gr

Formato

,

Product Range

Traveness Wet Adult
Customer Reviews
Lamb with Pears wet dog food Traveness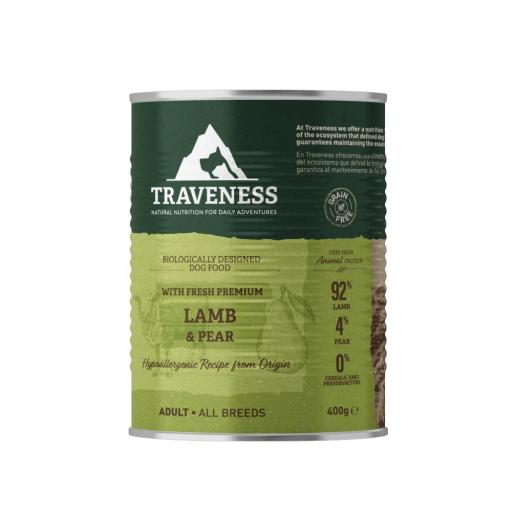 Uma relação preço/qualidade acima da média. Os patudos adoraram. Julgo que a quantidade necessária de comida para uma boa refeição, é a baixo do vosso calculo.