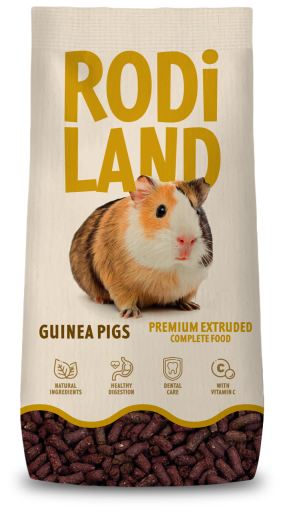 Description
Stick extruded guinea pigs Rodiland
Rodiland's Extorted Guinea Pig food is the best natural choice for your guinea pig.
One of the best options to ensure that your guinea pig has a complete and balanced diet is to choose the extorted food. Because it avoids ingredient selection at feeding time and ensures that there are no deficiencies.
The extorsionated food is made with a very specific cooking method as the ingredients are steamed and then pressed.
This food contains long fibres that facilitate its digestion, as well as alfalfa, hay, wheat, cereals and seeds, which are its main source of energy. Not content with all of the above, Rodiland has thought of everything and this recipe is made with a low percentage of fat, because as we know, guinea pigs have a tendency to put on weight easily.
BENEFITS:
Complete and balanced diet
Long fibres for easy digestion
Low fat content
No added sugars
Natural ingredients
HOW TO USE: Serve as is, and always keep clean, fresh water available for your guinea pigs or guinea pig rabbits.
Ingredients
Stick extruded guinea pigs Rodiland
Ingredients: alfalfa and hay, wheat bran, cereals and byproducts of cereals, products and byproducts of Oil seeds, sunflower oil, calcium carbonate, monodicalcium phosphate. Additives: Nutritions: Vitamin A (3A672) 20,000 U.i., Vitamin D3 (3A671) 2,000 U.i., Vitamin C (3A300) 600 MGR / KG, Vitamin E (Alfatocopherol) (3A700) 11.00 MGR / KG, Vitamin K3 (3A711) 0.80 MGR / KG, Vitamin B1 (3A820) 0.80 MGR / KG, Vitamin B2 2.40 MGR / KG, Vitamin B6 (3A831) 1.10 MGR / KG, Vitamin B12 0,015 MGR / KG, Nicotinic Acid (3A314) 60.00 MGR / KG, Pantothenic Acid (3A841) 20.00 MGR / KG, Hill Chloride (3A890) 250.00 MGR / KG, cobalt (carbonate monohyd 3b303) 0.38 mgr / kg, zinc (oxide) (3B605) 71.40 mgr / kg, manganese (oxide) (3B502) 24.80 MGR / KG, Iron (Ferrous Sulfate) (3B103) 30.00 MGR / KG, Copper (Sul Cupric Pentah) (3B405) 10.00 MGR / KG, iodine (potassium iodide) (3B203) 0.945 MGR / KG Selenium (sodium selente) (3B801) 0.225 MGR / KG. CONSTITUENT Analytics: Gross protein 15,00%, oils and gross fats 4.50%, brute fiber 15.10%, gross ash 8.30%, calcium (Calcium carbonate) 1.02%, phosphorus (dicalcium phosphate) 0.51%, sodium 0.20%. Way of use: Please in the feeder as it is, and always keep clean and fresh water at your disposal Indian guineples or rabbits.
Features
Stick extruded guinea pigs Rodiland
Complete nutrition

High in vitamin C

No added sugars

GMO free
Reference

8436579243883

Weight

2 KG, 500 GR, 1,5 Kg

Format

Pellets

Ingredients

With seeds, With nuts, With herbs

Nutritional Conditions

Natural

Age

Adult, Senior

Special Cares

, ,

Small Animal Type

Guinea Pigs

Brand

Rodiland
Customer Reviews
Stick extruded guinea pigs Rodiland